The diary is subdivided into two areas, Personal and Firm. The Firm diary is further subdivided into 4 books. The titles of these books are user definable by the system administrator. For this demo, we will call the books Trial, Motions, Depositions, and Miscellaneous.
By selecting one of the diary tabs on the right side of the Control Sheet, the user gains access to the diary system. Once inside that system, the user is free to change categories and/or books being displayed by simply clicking on the desired diary title or book. In this case, the user has selected the Personal diary.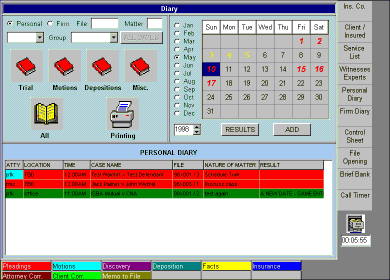 The diary system automatically opens to the current month and date. In this case, we have three entries for 5/10/1998 which appear in the personal diary. Note that the personal diary also shows firm diary entries.
Entries in the diaries are color coded. Within the monthly calendar display, 4 colors and fonts are used. A red date means that at least one diary entry on that date needs attention. A yellow date means that although all entries for that date have been closed, an open entry exists somewhere earlier in the calendar. The earliest date with an open entry can be easily located by right clicking the mouse on the calendar and selecting the earliest open date popup menu item. A green date means that all diary entries on that date as well as all entries prior to that date are closed. A black date means that no entries exist in the diary for that date. The colors of the dates in the calendar can change based upon which subset of the diary is being viewed. Since the personal diary displays all entries, this should be used as the indication of the status of the calendar at any point in time.
The bottom portion of the diary screen shows all entries for the date selected from the calendar. Red entries have not been closed, green entries are closed. An entry can be edited by simply double clicking on it in this window.