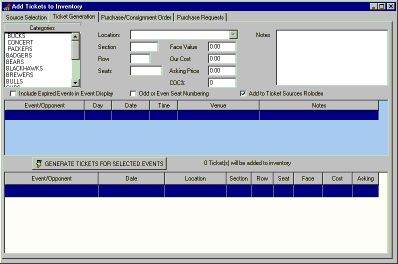 In order to define the tickets being purchased, we must select a category by clicking on the category name. A list of current events will be displayed in the center portion of the window. If these tickets are being placed in the system after the event date(catching up on paperwork), expired events may be displayed by checking the box under the category list. If this particular event uses even or odd numbered seating, this box must also be checked prior to generating the tickets.
The purchasing system also includes a ticket sources rolodex. This rolodex is used to keep track of season ticket holders. If you wish to add a particular purchase to the ticket source rolodex, make sure the box is checked prior to generating the tickets. Any tickets generated while this option is checked will cause an entry to be made in the source rolodex, so do NOT use this option for one time purchases.
For this particular order, we are purchasing seats 1-6 in section 212 row 4 of the upper level. Simply fill in the fields to define these tickets on the form. Also, since this is a 50/50 split consignment order, we will enter a consignment percentage of 50 instead of a fixed cost for these tickets. Since these are good seats, a bried notepad entry is made describing them.
Once all the information to describe the tickets has been entered and verified, select the event from the center panel and press the GENERATE button. The generated tickets will be displayed in the bottom panel. Tickets incorrectly generated can be marked with the mouse and removed via a right click popup menu option.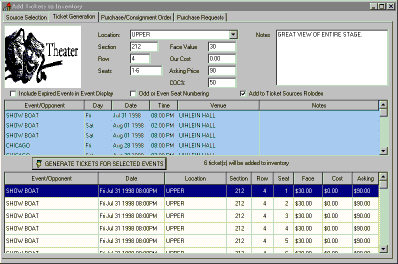 If the tickets being purchased had been season tickets instead of tickets for a single event, all tickets for all relevant events could have been generated with one mouse click by simply selecting all the events from the center panel prior to pressing the GENERATE button. This makes the entry of an entire season ticket as simple and fast as entering a ticket for a single event.